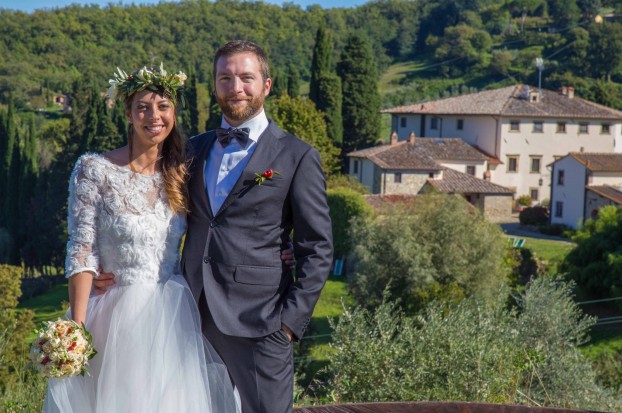 Weddings in Tuscany is the dream of many young couples from around the world.
To spend the most beautiful day of your life and say the fateful "yes" in a land so rich in art, history, good food and hospitality, makes such a special day even more memorable.
The range is wide, it will not be easy for example to choose the location from the many villas for Weddings in Tuscany.
Let's find out what this beautiful country has to offer to all future newlyweds.
​Weddings in Tuscany: get married in Florence
Tuscany offers many venues for your wedding.
First of all there is Florence.
To spend your wedding day in the old town and immortalize this great day in his Renaissance beauties will leave an incredible album of memories.
Walking by the streets of the city center, often happens to come across a newlywed couple who have chosen the center of Florence for photos Album.
It is not difficult to understand why, just think of the beauty and romance of a photo taken on the Ponte Vecchio, or at Piazzale Michelangelo.
This one in particular is the favored destination of the young couple, with its magnificent view over the city.
The narrow streets, magnificent squares or the charming Lungarno make unforgettable any shooting situation.
​Weddings In Historical Villas of Tuscany
But as we know Tuscany is not only Florence.
It's a very wide Region that offers beauties for all tastes.
Lovers of Historical Villas for example have only spoiled for choice.
Villas for Wedding in Tuscany have a long history, which dates back to the Renaissance or even to the Middle Ages, made of battles, family intrigue and great passed loves.
Many of the Wedding Villas in Tuscany still retain part of the old furniture, made of tapestry, four-poster beds, paintings and much more.
To celebrate your Wedding in the historic Villas of Tuscany is a unique experience.
​Mugello Weddings Location: getting married between Nature and History
Mugello is a perfect location for weddings.
A green oasis, made up of valleys and mountains, all just a few kilometers from Florence.
All those who dream of a Wedding surrounded by nature and history, but do not want to give up the usual photo in the historic center of Florence can definitely choose the Mugello as a location for their wedding.
During spring or summer, the Mugello offers a truly unique colors. The intense and fresh green of meadows, the explosion of color, of the flowers, the enveloping awakening of nature.
As Location For Weddings Mugello is therefore a destination chosen by many brides and grooms, also because it offers large spaces, many attractions and many historic villas.
Even Villa Campestri has been chosen by many newlyweds as a Wedding Location.
A Renaissance Villa in the heart of the Mugello ready to host weddings and any kind of ceremonies, open to any religious belief.
Moreover, in the beautiful surroundings of the olive secular, you can celebrate a truly unique ritual: the Olive Rite.
A unique moment to celebrate important moments of your lives, exchanging objects that symbolize the Olive tree.
Cause you know, Nature in Mugello is at the center of each ceremony.