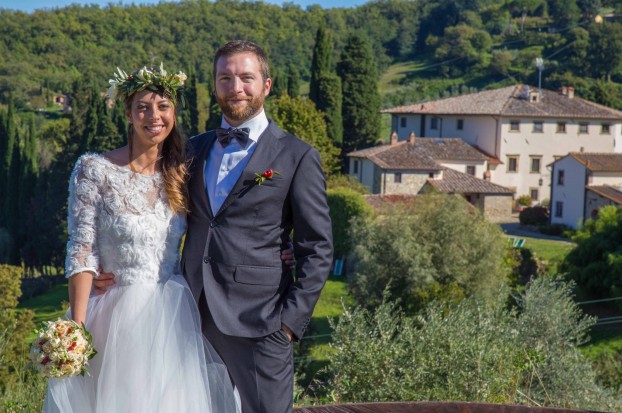 Weddings in Tuscany is the dream of many young couples from around the world.
To spend the most beautiful day of your life and say the fateful "yes" in a land so rich in art, history, good food and hospitality, makes such a special day even more memorable.
So to the issue "Wedding in Tuscany" we answer with the best locations in Mugello!
5 Ideas For a Tuscan Wedding
It comes as no surprise that so many people seek to spend the most important days of their lives in a place as tranquil at Tuscany. Here in Mugello, at Villa Campestri Olive Oil Resort, we have had the pleasure to be the setting of several memorable weddings, all with their own unique style.
Since everything 'Tuscan' embodies a rustic, elegant and timeless style, we have a few ideas on how you can make your wedding into a simple country affair. The bonus is that many of the ideas can be cost-savers and pack a visual punch. Sticking to neutral colors and playing on textures make weddings embrace country-sheek.
1. Use Natural Elements
One of the most important elements in Tuscany is nature and seasonable products. For a rustic, country theme you can use many natural elements as your wedding decorations, such as lemons, rosemary, floating candles, for a simple and elegant feel. Plus they cost a lot less than flowers. Olives branches make for a lovely table setting and have a pretty neat historical meaning as well.
2. Get a Gelato Cart
What could possibly be more Italian than gelato. One trend we have been spotting in weddings recently is of a bespoke, small wheelable gelato cart that would certainly be a hit at any wedding. Stick to simple flavors like pistachio or crema and enjoy la dolce vita! You can always commission your local favorite geleteria in town and see if they offer a service like this.
3. Olive Oil Party Favors
For a truly unique wedding gift for your guests, what about a small bottle of extra-virgin olive oil from Tuscany? At weddings in our resort, we always provide this charming items for guests. Not only is it useful, olive oil is as important to the Tuscan region as anything else, literally the 'life of the land.' Or if you prefer something like wine as a gift, personalize the label with the date of your wedding.
4. Wine Bottle Table Settings
Wine isn't just for drinking, it also comes in handy as a pretty table setting for your guests. We have seen so many interesting wine elements in weddings lately. From using bottles to number tables or using glasses made from the base of the bottles. Another interesting idea is to use corks as place setters for your guests.
5. Creative drinks!
Italy is a land of the perfect before dinner drinks and adding a local cocktail is the perfect way to add a bit of Tuscany to the mix. We suggest the Florentine 'negroni', made of one part gin, one part vermouth rosso, and one part Campari, garnished with orange peel. This is the quintessential 'apertif' that many of your guests will be very impressed with. Otherwise you can definitely incorporate non-Tuscan but Italian cocktails such as the peach bellini or Venetian spritz.
Ideas and tips to organize your wedding in Tuscany
Over the years, the trends for weddings change and therefore we thought it was interesting to draw up a list of tips and ideas for your wedding in Tuscany:
1. Embrace Cranberry!
Raw materials such as jute bags, twine and large white candles for country-chic, country-style weddings and sober elegance are in fashion. The cranberry red color has become popular in recent years. Other colors that are in fashion this year are sage green, light pink and navy blue.
2. Say Yes to The dress!
Every bride or groom usually has an idea of what they like well before their wedding. Everyone's tastes are different but in the last years we have seen a return of simple lace, beautifully accenting a clean, almost slightly conservative gown.
3. Timeless Gold
Without a doubt, gold always remains a classy element to any wedding, it's about 'how it's done' and what we've seen lately, is a more soft gold – in the form of chandeliers, stripes in cake and as table accents. Romantic is a popular wedding theme with large candlesticks and a huge floral element. 'Great Gatsby' seems to be quite the inspiration for those looking for a more vintage vibe.
The most beautiful wedding villas in Tuscany
The range is wide, it will not be easy for example to choose the location from the many villas for Weddings in Tuscany.
Let's find out what this beautiful country has to offer to all future newlyweds.
Get married in Florence
Tuscany offers many venues for your wedding.
First of all there is Florence.
To spend your wedding day in the old town and immortalize this great day in his Renaissance beauties will leave an incredible album of memories.
Walking by the streets of the city center, often happens to come across a newlywed couple who have chosen the center of Florence for photos Album.
It is not difficult to understand why, just think of the beauty and romance of a photo taken on the Ponte Vecchio, or at Piazzale Michelangelo.
This one in particular is the favored destination of the young couple, with its magnificent view over the city.
The narrow streets, magnificent squares or the charming Lungarno make unforgettable any shooting situation.
Weddings In Historical Villas of Tuscany
But as we know Tuscany is not only Florence.
It's a very wide Region that offers beauties for all tastes.
Lovers of Historical Villas for example have only spoiled for choice.
Villas for Wedding in Tuscany have a long history, which dates back to the Renaissance or even to the Middle Ages, made of battles, family intrigue and great passed loves.
Many of the Wedding Villas in Tuscany still retain part of the old furniture, made of tapestry, four-poster beds, paintings and much more.
To celebrate your Wedding in the historic Villas of Tuscany is a unique experience.
5 special locations for a fairytale wedding in Tuscany
Italy is a very popular destination for young couples who want to celebrate their love in a land kissed by the sun and beauty. In this panorama Tuscany is undoubtedly the ideal location for unforgettable weddings, as shown by the latest trends in Destination Wedding.
Here are the numbers of Destination Wedding in Italy:
Top 5 destinations
1. Toscana 31,8%
2. Lombardia 16,0%
3. Campania 14,7%
4. Veneto 7,9%
5. Lazio 7,1%
Regarding the type of ritual, 35.0% of couples choose the civil ceremony, 32.6% the religious one and the 32.4% prefer a symbolic rite.
The success of wedding tourism in Italy is to be found in the historical, cultural and landscape heritage that characterizes our country and places it among the most beautiful places in the world. Foreigners choose Italy because it is the "Bel Paese", rich in culture, art, wonderful landscapes, good food, excellent wine, mild climate and great professionals in the wedding sector.
Wedding tourism is therefore a tourist segment that includes Tuscany as the ideal location for weddings.
Getting married in Tuscany means living an unforgettable experience, in an atmosphere that only this land has: rolling hills dotted with vineyards and olive groves, characteristic country churches, farmhouses that can bring you back in years.
In addition, Tuscany also offers ancient castles that convey smells and sensations of the past, Renaissance villas, boat marriages in the Tuscan archipelago, and a breathtaking cuisine, made of genuine ingredients and excellent wines.
In Tuscany, the wedding can be celebrated on the beach, in charming castles, historic villas, fortresses or characteristic medieval villages.
Here are the 5 special locations for a fabulous wedding in Tuscany!
Florence
Getting married in the Cradle of the Renaissance is a truly unique experience, the charm of Florence will be the scene of the most beautiful day of your life.
Siena
Getting married in Siena means celebrating your love in a place where time seems to have stopped and everything tells millennial emotions. You will experience unique moments that will remain forever.
Chianti
The unforgettable sweetness of Tuscan nature among the Chianti vineyards and the wheat hills will make your dream of love unique.
Maremma
Getting married in Maremma means living an unforgettable experience, as this fascinating land offers a unique atmosphere like that of its white beaches, where you can celebrate your wedding enjoying an incomparable sunset.
Mugello
Mugello is a magical land, rich in history, nature and friendly people who have always been inclined towards hospitality. Getting married in Mugello means live an authentic experience, in contact with traditions and nature in a historical setting rich in villas and testimonies.
The best locations in Mugello for a wedding in Tuscany
Mugello is a perfect location for weddings.
A green oasis, made up of valleys and mountains, all just a few kilometers from Florence.
All those who dream of a Wedding surrounded by nature and history, but do not want to give up the usual photo in the historic center of Florence can definitely choose the Mugello as a location for their wedding.
During spring or summer, the Mugello offers a truly unique colors. The intense and fresh green of meadows, the explosion of color, of the flowers, the enveloping awakening of nature.
As Location For Weddings Mugello is therefore a destination chosen by many brides a chosen by many newlywedsnd grooms, also because it offers large spaces, many attractions and many historic villas.
Even Villa Campestri has been as a Wedding Location.
A Renaissance Villa in the heart of the Mugello ready to host weddings and any kind of ceremonies, open to any religious belief.
Moreover, in the beautiful surroundings of the olive secular, you can celebrate a truly unique ritual: the Olive Rite.
A unique moment to celebrate important moments of your lives, exchanging objects that symbolize the Olive tree.
Cause you know, Nature in Mugello is at the center of each ceremony.
Villa Campestri Oilve Oil Resort offers a splendid Renaissance Villa, a centuries-old park, a panoramic terrace with swimming pool, a private chapel and a restaurant with no equal. For us, openness and hospitality are the virtues of home.
We are happy to welcome weddings, anniversaries, ceremonies of any kind and for any religious creed.
We are waiting for you!