The experiences during a holiday at Villa Campestri are so many and intense that almost no one resists the joy of sharing them. What is the favorite tool of our guests to share the emotions experienced in our beautiful Resort in Mugello? Needless to say, Instagram!

The shots published by our hosts on Instagram with #villacampestri are so many!
Every single shot tell the emotions of a holiday in Mugello, the experience of tasting olive oil and the flavors of Tuscan cuisine. All enclosed in the instant of a pic.
For us it is really a pleasure to see how many emotions emerge from your photos and how much is the joy of sharing them.
For this reason we have compiled a small ranking of your shots with #villacampestri on Instagram.
Here are our favorite Instagramers
1) Magnificent view of the panoramic swimming pool (Lele Morelli)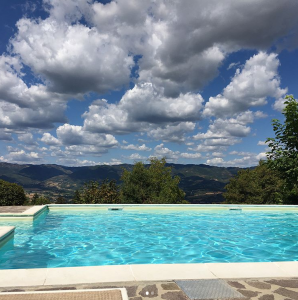 2) The legendary FIAT! (Jacqui Gibson)
3) Painting in Mugello (Christinejoypaintings)
4) The emotion of getting married in a historic Villa in Tuscany (Madeline Jean Sterling)
5) The pleasures of good cuisine(Cinzia Fabbri)