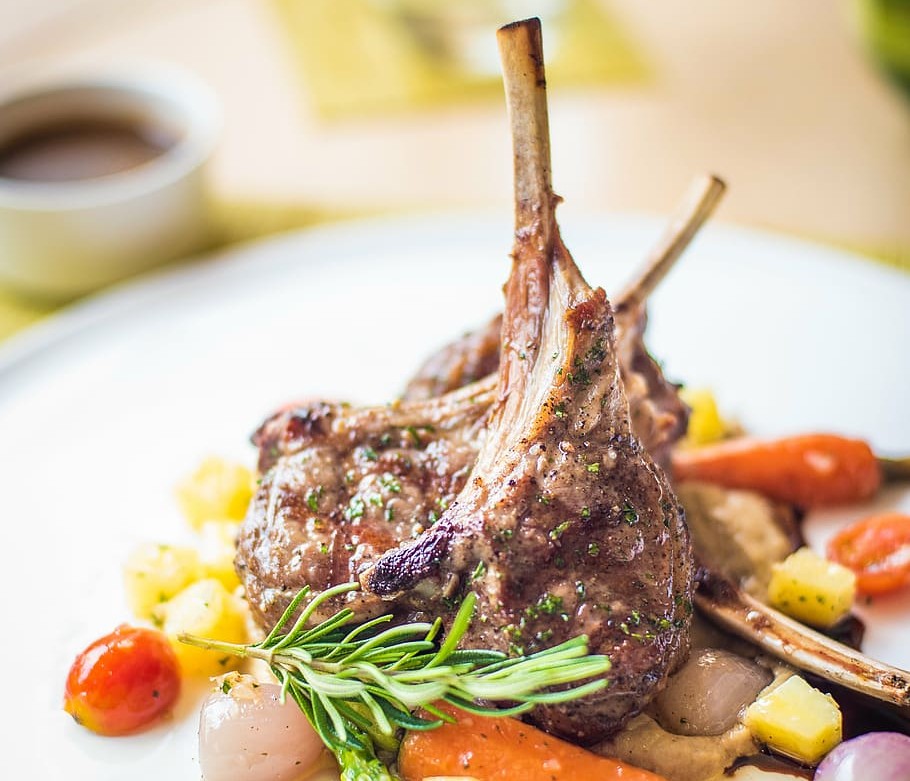 If you like lamb then you can't miss "Scottadito Lamb" from Villa Campestri Olive Oil Resort, a delicious dish that enhances the delicacy of lamb chops.
The properties of Lamb Meat
The lamb is the son of the sheep that has not exceeded 12 months of age, its meat is tender, tasty and very digestible.
Lamb meat in Italy is widely consumed during Easter days, when it appears on the table in many different recipes, but it could be a good substitute for white meat throughout the year.
This is because the properties of lamb are many and its taste is exquisite.
Let's see in detail what are the properties of lamb:
rich in proteins, ideal for muscle development;
ideal to be introduced in the feeding of newborns thanks to the content of mineral salts and vitamins;
potassium source;
iron source;
lean and low in calories.
In short, lamb is really recommended for its high beneficial properties and for the adequate proportion between proteins and fats.
It can be cooked in many ways but a really delicious recipe is the famous "Lamb Scottadito".
The secrets to cooking an excellent "Scottadito Lamb"
Cooking "Scottadito Lamb" is not difficult but it is important to follow a few small tricks.
First of all, let's start with the choice of meat.
The ideal meat to make an excellent "Scottadito Lamb" is that of suckling lamb, as its meats are very tender and delicate.
"Semi-weaned" lamb may also be fine, even if its meat has a more intense flavor.
Another secret to cooking a delicious scottadito, so called because it must be eaten very hot, is to dry the meat before placing it on the grill, preferably in cast iron. It is also better to take it out of the fridge at least an hour before cooking.
Ideal for cooking is 3 minutes per side, otherwise they may overcook and the meat may harden.
When turning it from one side to the other it is important to be careful not to puncture it with a fork so as not to let liquids come out.
Very well, now you are ready, let's move on to the recipe of the Lamb Scottadito of Villa Campestri!
Scottadito Lamb Recipe
Ingredients for 4 people)
12 lamb ribs in the loin;
800 g spinach (frozen or cooked);
1/4 clove of garlic;
1 bunch of mint;
1 coffee cup of pine nuts;
3 tablespoons of grated pecorino cheese;
8 tablespoons extra virgin olive oil;
1 lemon;
salt pepper to taste
Method
Take the mint and make a pesto with the cheese, pine nuts, 1/4 clove of garlic and oil.
Grill the lamb taking care not to overcook it.
Arrange the ready-made ribs on the spinach, sautéed in a pan and drizzled with lemon, arranged in the middle of the plate.
Finish with salt, pepper and pesto around and a little over the meat.
Visit Tuscany to discover the best flavors
The Villa Campestri's recipe differs slightly from the classic one in that it is enriched by the flavor of delicious aromas, such as mint.
In our "L'Olivaia" restaurant we pay the utmost attention to the quality of raw materials, rigorously selected by the best local producers
If you want to taste our delicious Lamb Scottadito we are waiting for you at Villa Campestri Olive Oil Resort!